What are Cacique Bras?
Cacique Bras is a brand that focuses on creating lingerie and intimate apparel with a primary emphasis on catering to plus-size women. It's part of the larger family of Lane Bryant brands, which are known for their extensive offerings of clothing and lingerie designed specifically for women who wear larger sizes.
What sets Cacique Bras apart is their specialization in crafting bras, panties, and other intimate wear that prioritizes comfort, support, and style for women with fuller figures. They offer a wide range of styles to suit various needs, including everyday bras for comfortable daily wear, sports bras for active lifestyles, and special occasion lingerie for those extra special moments. This variety caters to the diverse preferences and requirements of their customers. As a result, Cacique Bras has gained popularity among individuals seeking high-quality intimate apparel available in extended sizes.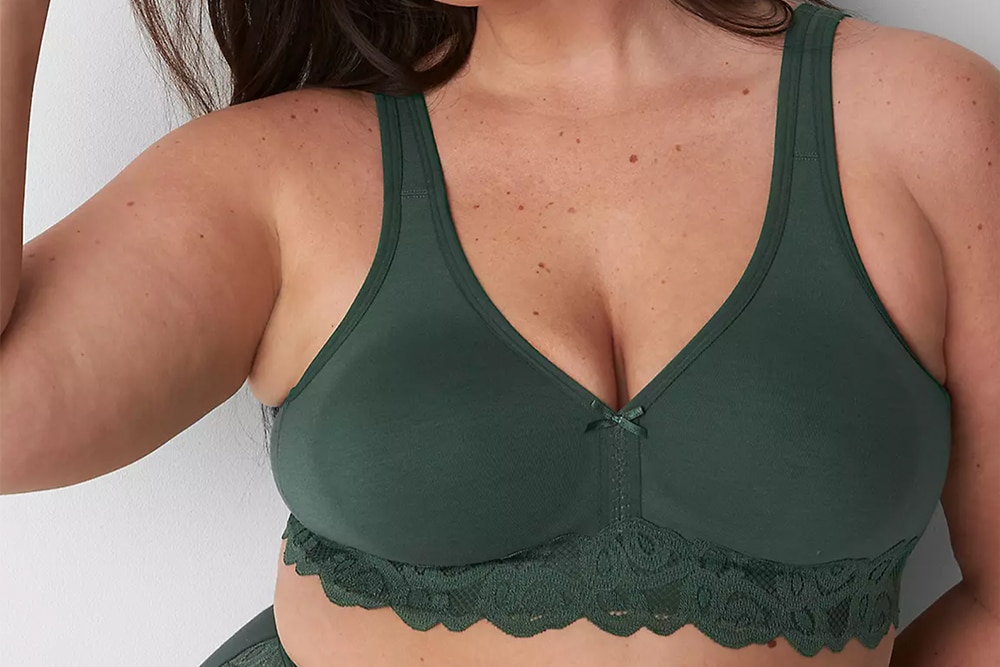 Are Cacique Bras good to wear after Breast Augmentation?
Cacique Bras, like many other lingerie brands, can be a good option for wearing after breast augmentation surgery. However, it's essential to keep a few factors in mind when choosing post-surgery bras, regardless of the brand:
Comfort: After breast augmentation surgery, your breasts may be sensitive and swollen. Look for bras that have soft, non-irritating materials, and avoid bras with underwires or any elements that may press on or irritate the surgical area.
Support: It's crucial to have adequate support during the healing process. Cacique Bras offers a variety of supportive bras, including wireless and full-coverage options that can help provide the necessary support without causing discomfort.
Sizing: After breast augmentation, your bra size may change. It's essential to get professionally measured to determine your new size accurately. Cacique offers fittings in their stores, and you can also find guides online for measuring yourself at home.
Front-Closure Bras: Bras with front closures can be particularly convenient after breast augmentation surgery, as they are easier to put on and take off without straining the surgical area.
Compression Bras: Depending on your surgeon's recommendations, you might need to wear compression bras post-surgery. These bras help reduce swelling and provide gentle compression to aid in healing.
Breathability: Look for bras made from breathable materials to help prevent excessive sweating, which can be uncomfortable during the healing process.
Ultimately, whether Cacique Bras or any other brand is suitable for you after breast augmentation surgery will depend on the specific style and features of their bras, as well as your surgeon's recommendations. It's advisable to consult with your surgeon or a knowledgeable lingerie specialist who can provide guidance on the best bras for your post-surgery needs.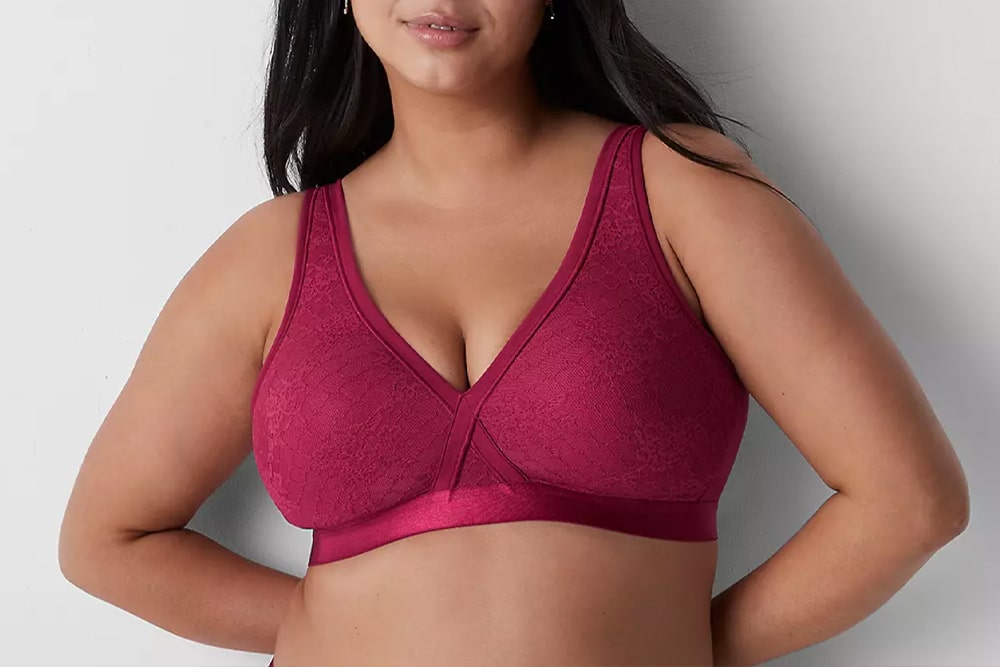 Here's a table outlining the key differences between Cacique Bras and regular bras
| Aspect | Cacique Bras | Regular Bras |
| --- | --- | --- |
| Target Audience | Primarily for plus-size women | Designed for various body sizes |
| Size Range | Offers extended sizes, including plus sizes | Typically available in standard size ranges |
| Support | Emphasis on providing excellent support for fuller figures | Designed to provide support for a wide range of body types |
| Style Diversity | Offers a variety of styles, including everyday, sports, and special occasion bras | Available in a wide range of styles for different purposes |
| Special Features | Some styles may include features like wider straps, side smoothing, and full-coverage cups | Features vary widely depending on the brand and style |
| Underwire Options | Offers both underwire and wireless options | Available in both underwire and wireless styles |
| Comfort | Focuses on comfort for larger busts, with attention to fit and materials | Comfort levels can vary depending on the brand and style |
| Size Measurement | Offers professional fittings in stores | Often measured in standard sizing conventions |
| Price Range | Price range can vary but often reflects the quality and specialized sizing | Price varies widely depending on the brand, style, and materials used |
Remember that individual preferences, body types, and specific bra styles can influence the suitability and comfort of any bra, whether it's from Cacique or another brand. It's essential to consider your unique needs and preferences when choosing the right bra for you.
Other Bras To Get on Amazon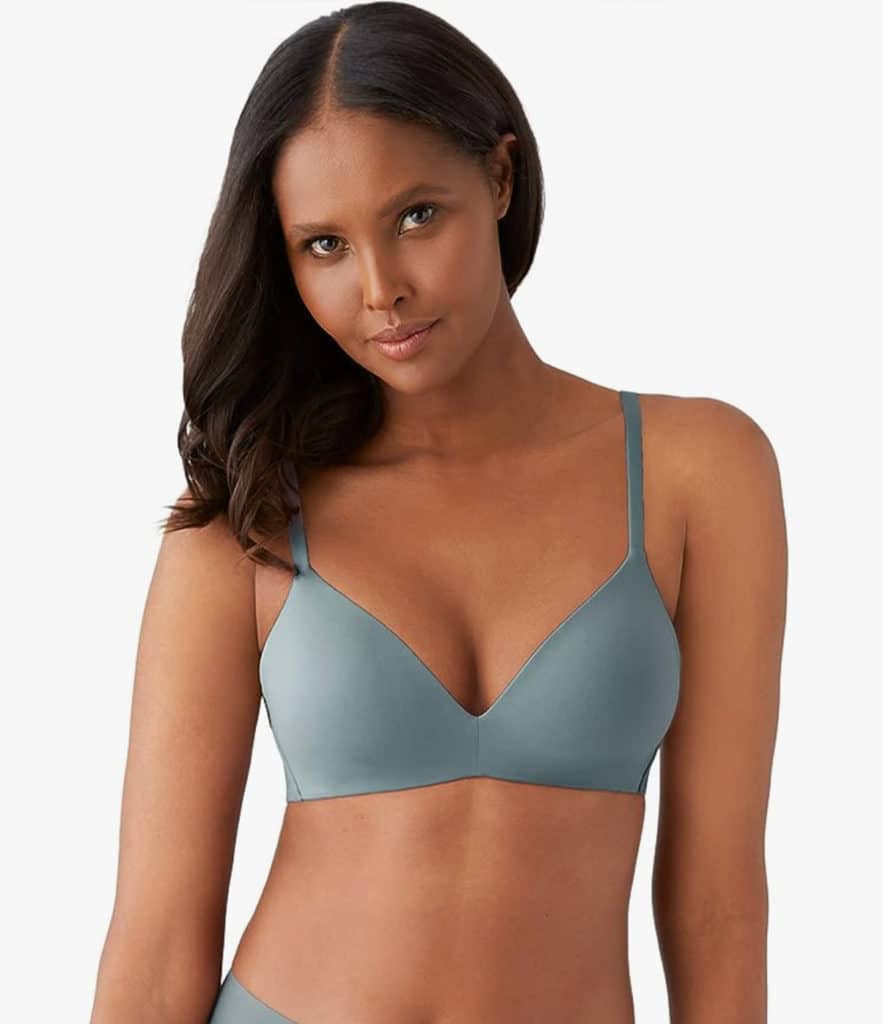 Wacoal Women's How Perfect Wire Free Bra
Chantelle Women's Bare Essential Lightweight Wireless Bra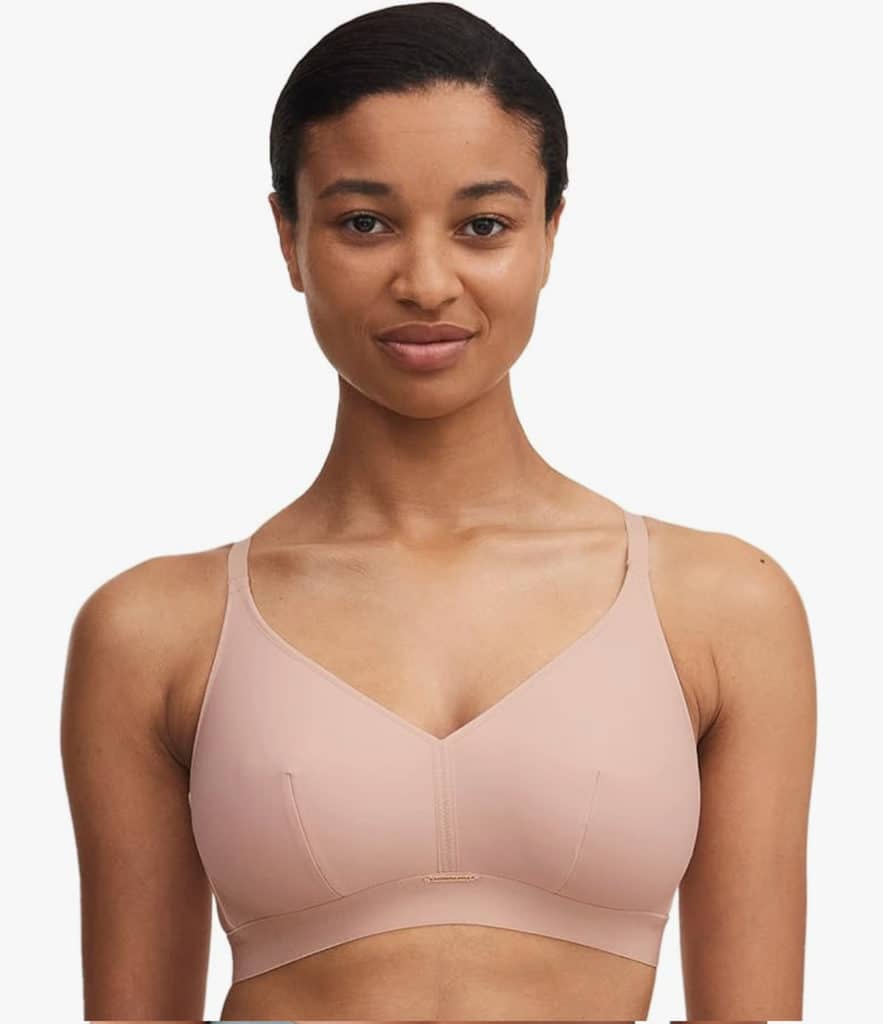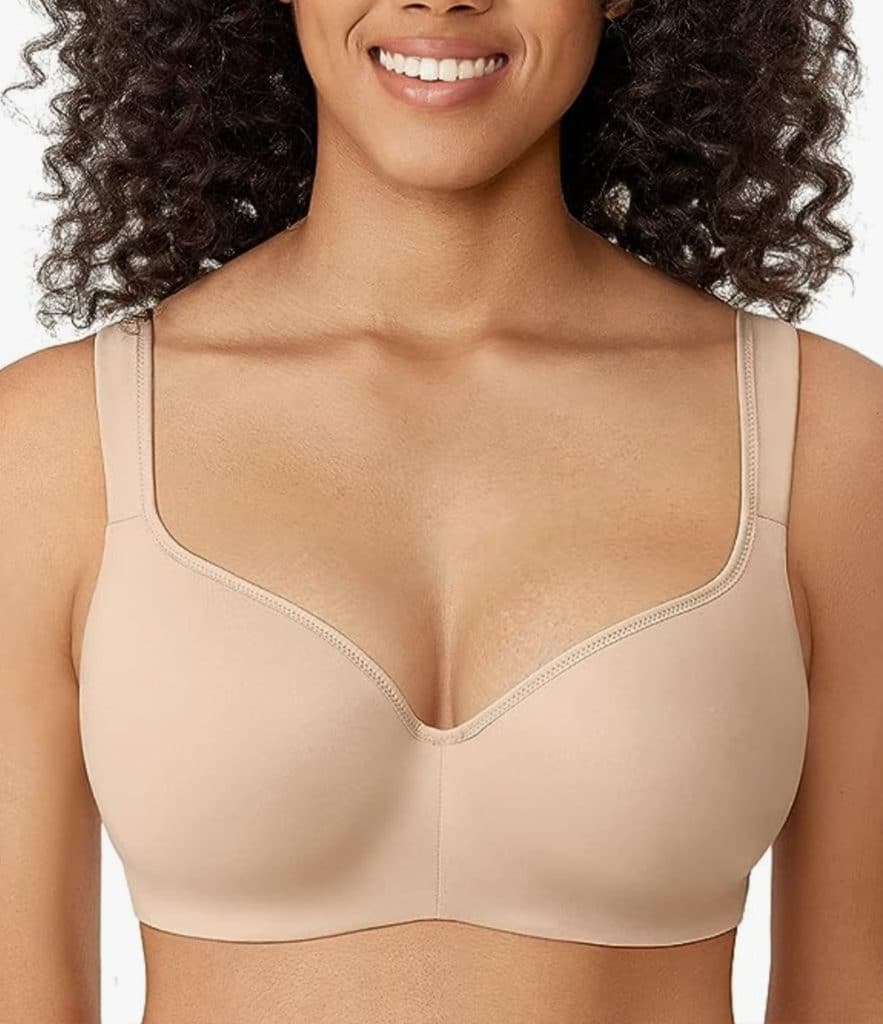 DELIMIRA Women's Balconette Bra Plus Size Full Coverage Tshirt Seamless Underwire Bras Back Smoothing
FAQ (Frequently Asked Questions) about Cacique Bras:
Q1: What is Cacique Bras?
A1: Cacique Bras is a brand of lingerie and intimate apparel, primarily known for catering to plus-size women. It's part of the Lane Bryant family of brands.
Q2: What makes Cacique Bras unique?
A2: Cacique Bras specializes in providing comfortable and supportive bras for women with fuller figures. They offer a wide range of styles, including everyday bras, sports bras, and special occasion lingerie, specifically designed to meet the needs of plus-size individuals.
Q3: What size range do Cacique Bras offer?
A3: Cacique Bras offer extended sizes, including plus sizes, to ensure a better fit for a broader range of body shapes and sizes.
Q4: Are there different styles available in Cacique Bras?
A4: Yes, Cacique offers a variety of styles, from basic and functional bras to more fashionable and decorative options. You can find bras suitable for different occasions and preferences.
Q5: Where can I purchase Cacique Bras?
A5: Cacique Bras are available for purchase in Lane Bryant stores, as well as online through the Lane Bryant website.
Q6: Do they offer fitting services?
A6: Yes, Cacique often provides professional fitting services in their physical stores to help customers find the right bra size and style.
Q7: Are Cacique Bras comfortable for everyday wear?
A7: Many Cacique Bras are designed with comfort in mind, especially for larger busts. They often feature wider straps and other design elements to enhance comfort for all-day wear.
Q8: Do they offer bras with underwires or wireless options?
A8: Yes, Cacique offers both underwire and wireless bras to cater to different preferences and support needs.
Q9: Are Cacique Bras affordable?
A9: Price range varies depending on the specific style and materials used, but Cacique Bras are generally considered a mid-range to premium brand. The cost often reflects the quality and specialized sizing they offer.
Q10: Can I find Cacique Bras in countries outside the United States?
A10: While Cacique is primarily associated with Lane Bryant stores in the United States, you may also find select Cacique products available through international shipping or in specialty stores outside the U.S. However, availability may vary by location.
Q11: What types of materials are Cacique Bras typically made from? A11: Cacique Bras are crafted from a variety of materials, including cotton, lace, microfiber, and spandex blends, chosen for their comfort, durability, and support.
Q12: Can I order Cacique Bras online, and do they offer international shipping? A12: Yes, you can purchase Cacique Bras online through the Lane Bryant website. They may offer international shipping, but availability can vary by region.
Q13: How do I care for and wash my Cacique Bras to ensure their longevity? A13: Care instructions typically vary by bra style, but it's generally recommended to hand wash or use a lingerie bag when machine washing to protect the delicate materials. Always check the care label for specific guidance.
Q14: Are there any special tips for finding my correct size in Cacique Bras? A14: To find your correct size, it's advisable to visit a Cacique store for a professional fitting. If that's not possible, you can use their online sizing guides and measurements to help determine your size.
Q15: Do Cacique Bras come in a range of colors and patterns? A15: Yes, Cacique offers bras in a variety of colors, patterns, and prints, allowing you to choose styles that suit your personal taste.
Q16: Can I return or exchange a Cacique Bra if it doesn't fit correctly? A16: Cacique typically has a return and exchange policy that allows you to return or exchange bras within a specified time frame if they don't fit as expected. Be sure to check their specific return policy for details.
Q17: Are Cacique Bras suitable for nursing mothers? A17: While Cacique may offer nursing bras, it's essential to check their current product lineup for specific nursing bra options designed for breastfeeding convenience.
Q18: Do they have a customer support service for questions and concerns about their products? A18: Yes, Cacique typically provides customer support through their website and customer service phone lines to assist with inquiries and concerns.
Q19: Are there any promotions or discounts available for Cacique Bras? A19: Cacique often runs promotions and sales, especially during certain seasons or holidays. You can check their website or subscribe to their newsletters to stay updated on discounts and offers.
Q20: Can I find Cacique Bras in specialty lingerie stores or department stores? A20: Cacique Bras are primarily available in Lane Bryant stores and on their website. While you may find them in some specialty lingerie stores, availability in other retail locations can be limited.
Q21: Are Cacique Bras suitable for post-mastectomy or breast reconstruction patients? A21: Cacique may offer post-mastectomy bras or bras suitable for breast reconstruction patients. It's recommended to inquire about specific styles that provide the needed support and comfort.
Q22: Can I find Cacique Bras in stores other than Lane Bryant? A22: Cacique Bras are primarily sold in Lane Bryant stores and online. However, some Lane Bryant outlets may carry a selection of their products.
Q23: How do I know if a Cacique Bra is the right fit for my body shape? A23: Cacique offers a fitting guide on their website to help you determine your correct size and choose bras that complement your body shape.
Q24: Do Cacique Bras have a warranty or guarantee? A24: Cacique may offer warranties or guarantees on certain products. Check their website or inquire with their customer service for information on product warranties.
Q25: Are Cacique Bras suitable for women with sensitive skin or allergies? A25: Cacique uses various materials, so it's essential to check the fabric composition to ensure it won't irritate sensitive skin or trigger allergies.
Q26: Can I find Cacique Bras in maternity styles for pregnant women? A26: While Cacique may not specialize in maternity bras, they may offer stretchy and supportive options suitable for pregnant women. Check their current product offerings for maternity-friendly styles.
Q27: Are Cacique Bras known for durability and long-lasting quality? A27: Cacique Bras are generally known for their quality and durability, but longevity depends on factors like proper care and frequency of wear.
Q28: How do I choose the right Cacique Bra for high-impact activities like sports? A28: Look for Cacique sports bras with strong support features like adjustable straps, moisture-wicking materials, and a snug fit to reduce bounce during physical activities.
Q29: Can I buy Cacique Bras as part of lingerie sets with matching panties or other undergarments? A29: Yes, Cacique often offers lingerie sets that include matching panties or other coordinating undergarments for a complete look.
Q30: Are there any eco-friendly or sustainable options in Cacique Bras? A30: Some lingerie brands are moving toward sustainability. While Cacique may have eco-friendly options, it's a good idea to inquire about their sustainability efforts and product lines if this is a priority for you.
Reference
https://www.lanebryant.com/cacique-intimates/bras