A tummy tuck can vastly improve the look of your abdominal area and give you the confidence to wear a bikini, low-cut jeans, and more. If you are looking for a Tummy Tuck in Miami you can contact us at this link.
One of the only downsides to a tummy tuck is the scar that it leaves. The good news is that you can get a tattoo over the scar which effectively hides it.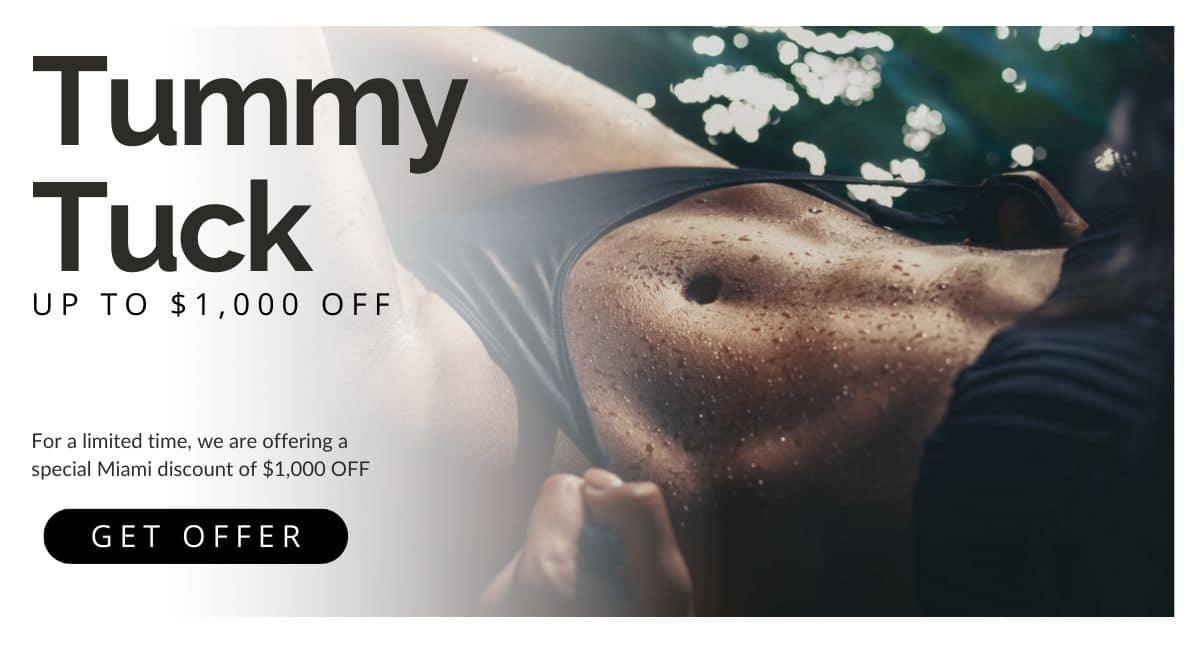 How Long After a Tummy Tuck Can I Get A Tattoo?
Like all surgery, a tummy tuck incision takes a while to heal, with time being the best healer.
Most plastic surgeons recommend waiting between 6 months and a year before getting a tummy tuck tattoo. This time period ensures that the scar has healed fully, there is no risk of infection and it is safe to traumatize the skin with a tattoo.
Does Tummy Tuck Tattoo Hurt?
Everyone has their own pain threshold so it's difficult to say how much a tummy tuck tattoo will hurt for you.
However, it's important to note that since the tattoo will be done over the stomach area (which is already a sensitive place) and scar tissue, you can expect a bit more pain than a regular tattoo.
With the beautiful end result you can achieve, the small amount of pain will be worth it!
Tummy Tuck Tattoo Before and After
Interested to see what a tummy tuck tattoo looks like before and after? Here are some great examples!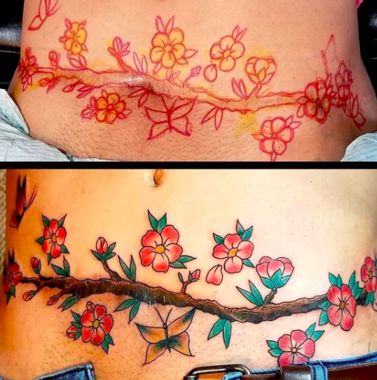 The above picture shows a tummy tuck tattoo in progress. The scar is still clearly visible, even with the tattoo outline. However, it disappears as the tattoo's colors are filled in. The cleverly-placed branch does a great job of hiding the scar, while the blossoms create a pretty and whimsical look.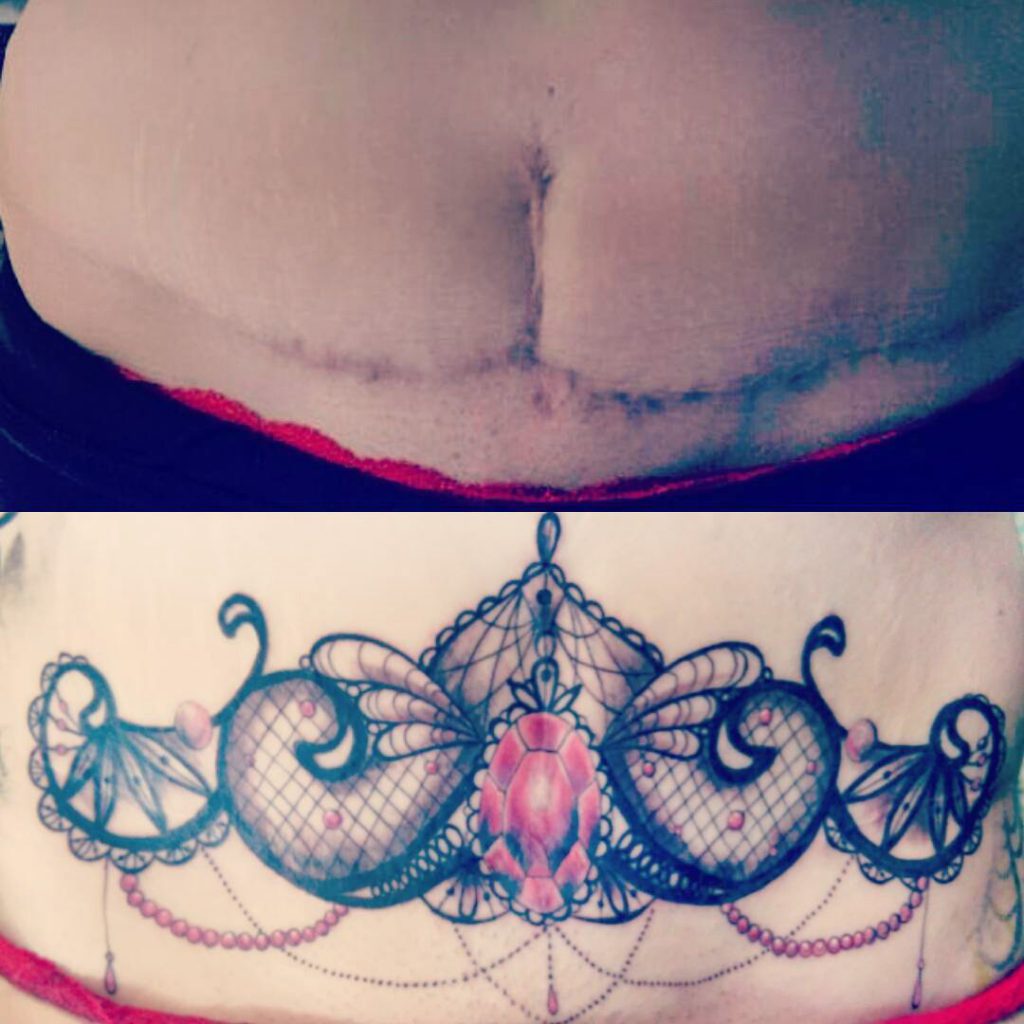 If your tummy tuck scar also extends upwards a little into your belly button (as shown in the top picture), you may want to choose a design that covers the vertical scar as well. As you can see from the final result, this tattoo design hides the horizontal and vertical scar well.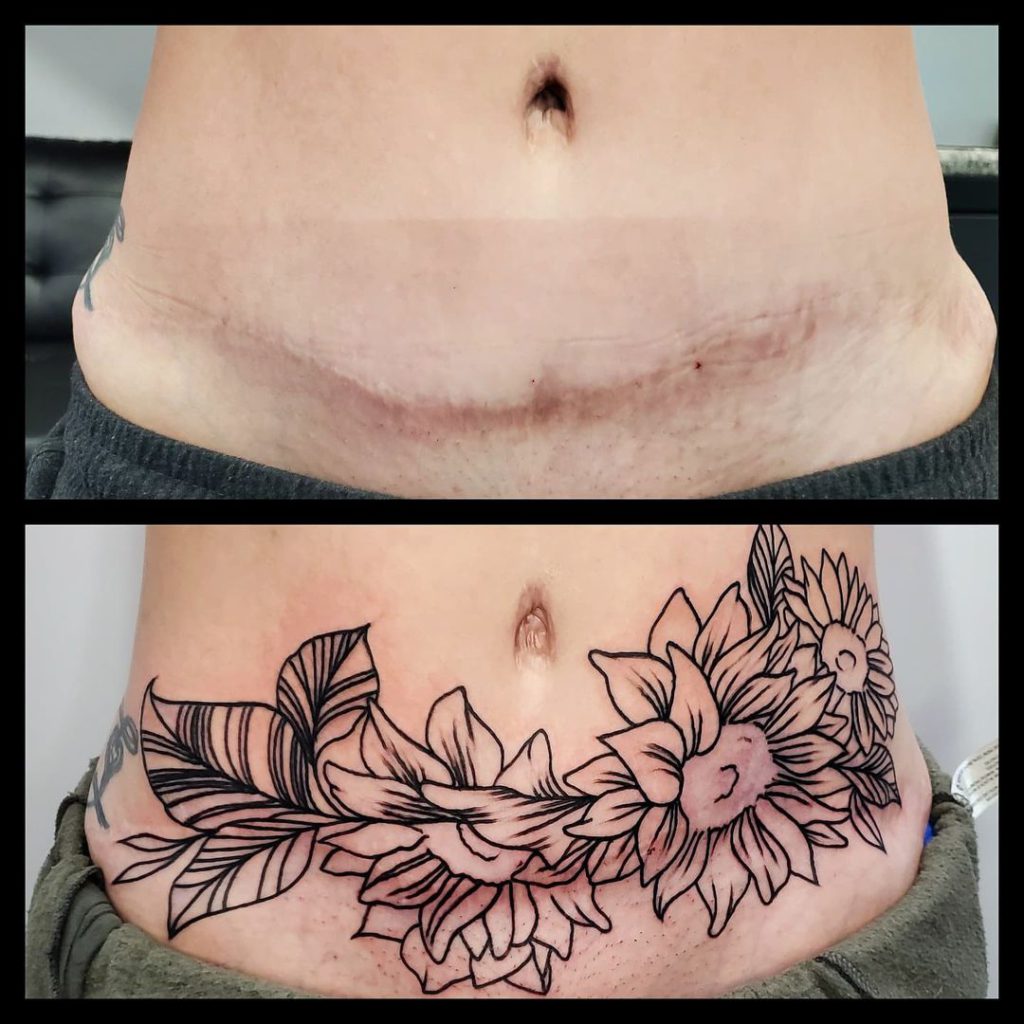 The dark shade of the tummy tuck scar (above) contrasts with the patient's pale skin, making it look even more prominent. The tattoo artist has done an excellent job of camouflaging the tattoo with a bold tattoo featuring intricate lines. The black-colored tattoo hides the scar extremely well and you'd have to look really closely to notice the scar.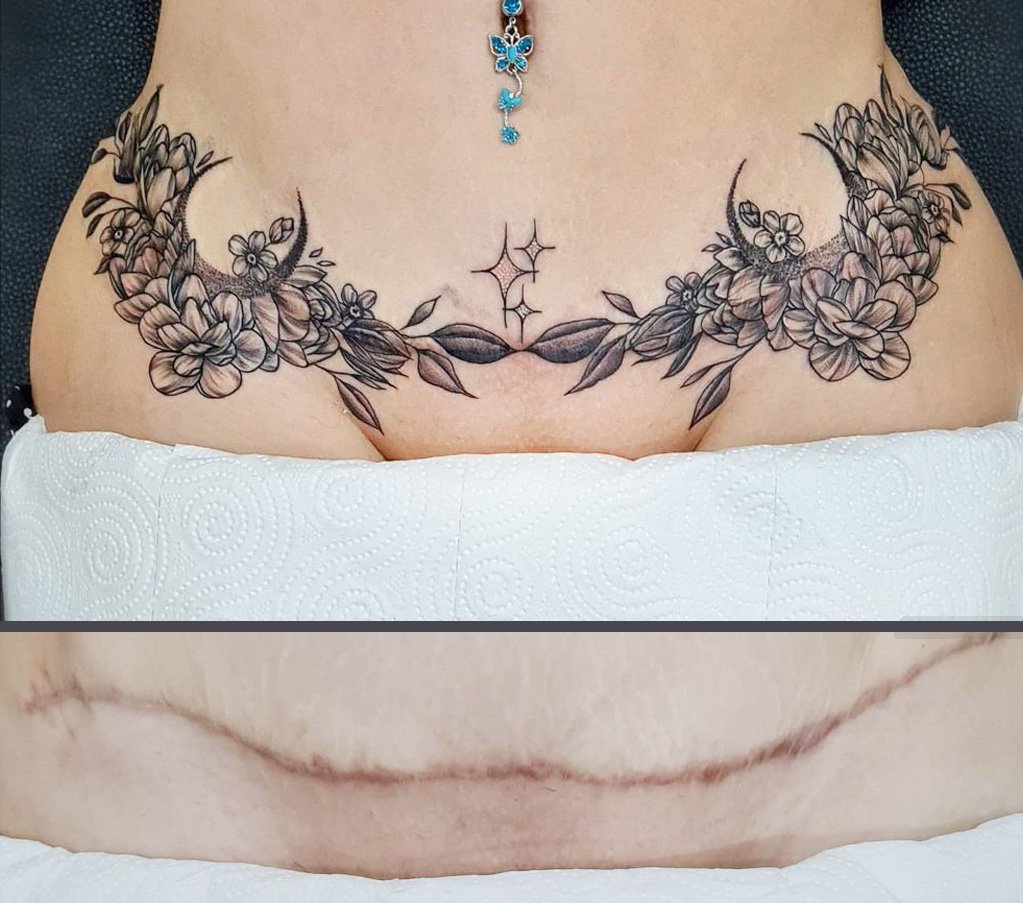 This tummy tuck scar (below) is thin but dark in color. Together with the tattoo artist, the patient selected a beautiful floral design tattoo in black ink that was shaded a lot, especially where the scar is located. The scar is now barely visible! The tattoo is beautifully complemented by a belly ring.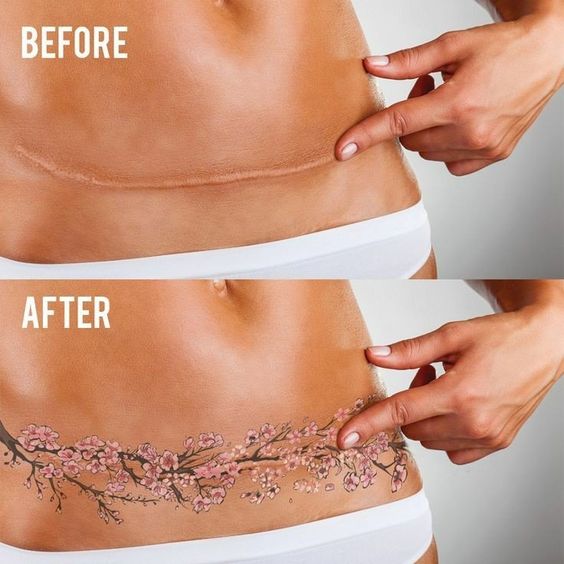 The tummy tuck scar (upper picture) is slightly raised. These scars do well with tattoos featuring branches as it gives a natural and camouflaged look. Using brown, pink, and a bit of white ink, the tattoo artist created a girly tattoo along the scar. The result? The scar is barely noticeable!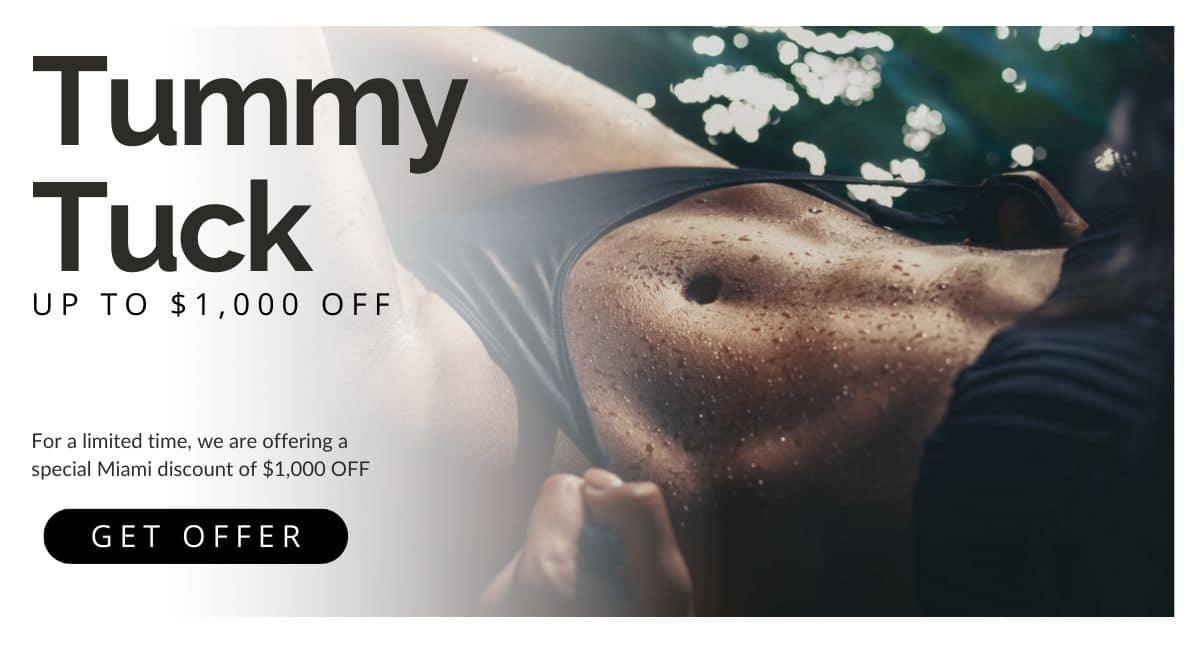 Tummy Tuck Tattoo Ideas
Now that you've seen how well a tattoo can hide a tummy tuck scar, let's take a look at some great tummy tuck tattoo ideas:
Mermaid Tummy Tuck Tattoo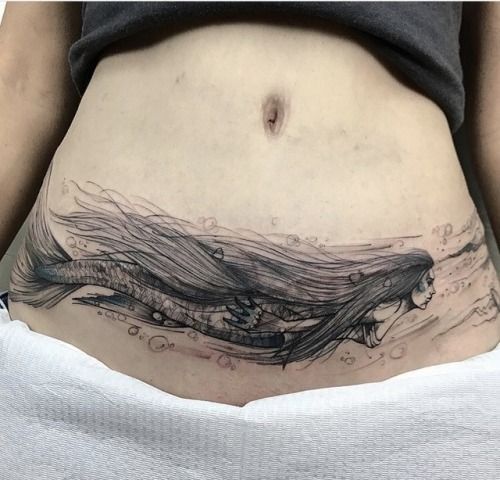 For the person who loves mermaids comes this stunning mermaid tattoo for tummy tuck scars! The mermaid is created in black ink and extends throughout the width of the stomach and onto the hip area. The mermaid's long, flowing hair expertly hides all elements of the scar, while the bubbles and flowing water add to the final look.
Roses and Heart Tummy Tuck Tattoo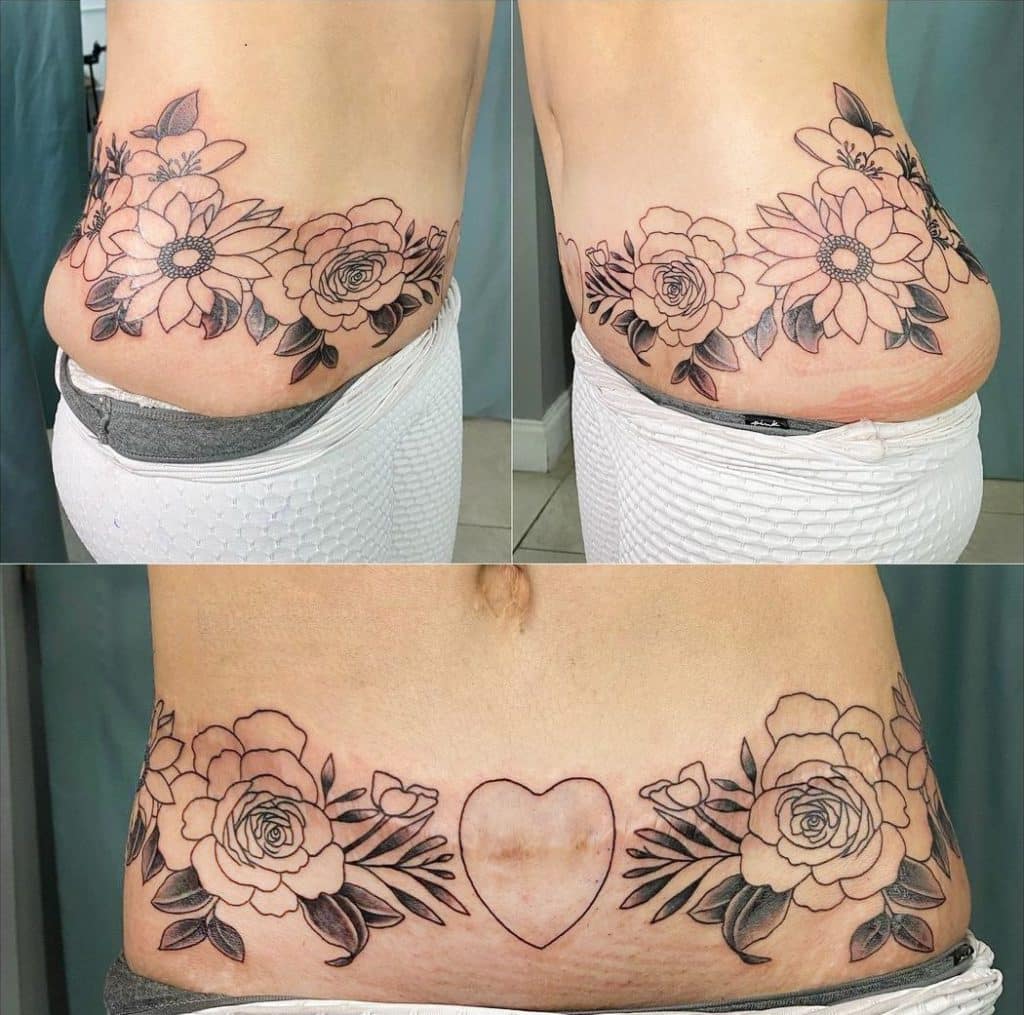 If you are the kind of person who likes minimalism, this tummy tuck tattoo would be perfect for you! It has a large yet minimalist heart in the center, with an intricate rose design along the sides. When looking at this tattoo, your eyes are naturally drawn away from the scar and on the tattoo.
Crown Tummy Tuck Tattoo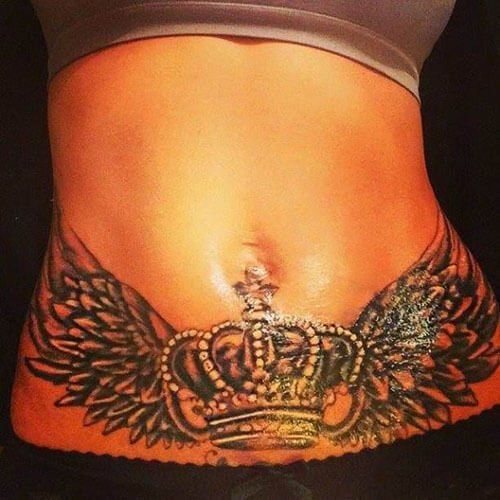 What better way to celebrate yourself than by treating yourself to a crown tattoo? This full-bodied tattoo has a jeweled crown in the middle with a large piece in the middle that cleverly hides the rest of the scar. On the sides are a set of angel wings that are highly detailed.
Whimsical Blossom Tummy Tuck Tattoo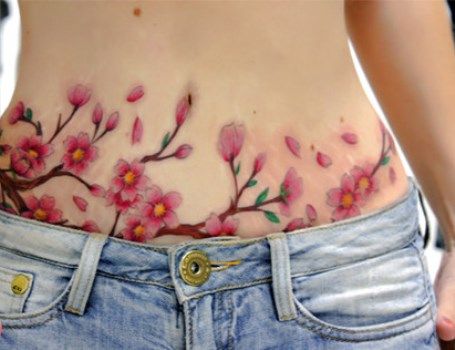 Looking for a pretty tattoo to celebrate your tummy tuck results? Why not consider this whimsical blossom tattoo that daintily covers the entire horizontal region of the tummy tuck scar. If you have any vertical scar elements, these can be covered by blossom leaves or branches. You can add as many blossoms as you like to make it unique.
Large Rose Tummy Tuck Tattoo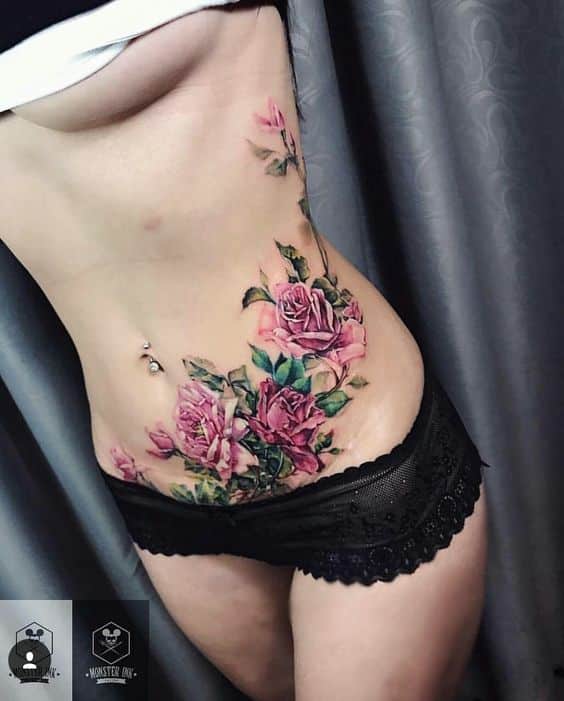 If you feel self-conscious about your tummy tuck tattoo, a large and intricately colored tattoo could be the best option for you. This tummy tuck tattoo has a few large, pink roses and green leaves. The ink is dark and the tattoo outlines are filled in well to ensure that your tummy tuck scar cannot be seen.
Egyptian Tummy Tuck Tattoo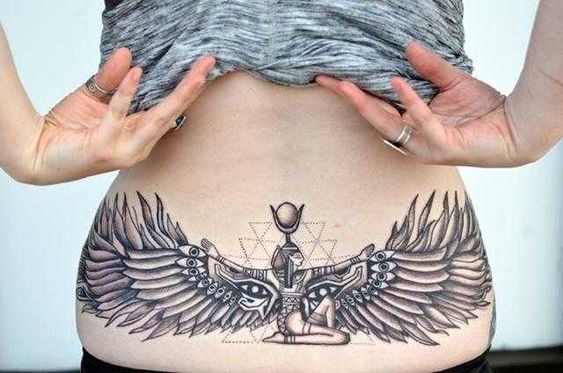 If you're a fan of Egyptian mythology, you'll love this exquisite Egpytian-themed tummy tuck tattoo! It has an Egyptian goddess in the middle with wings on the side to help camouflage any sign of a scar. The complex and detailed design draws the eyes completely away from any remaining signs of a scar.
Beaded Floral Design Tummy Tuck Tattoo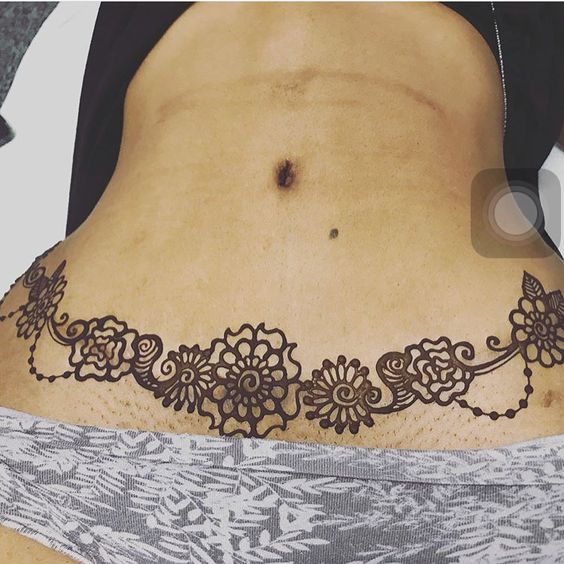 This pretty, floral, beaded tummy tuck tattoo could be mistaken for a stylish belly chain! The design uses bold black ink with great patterns. Its placement on the abdomen makes it appear as if you're wearing belly jewelry and also does an excellent job of hiding any traces of a tummy tuck scar.
Third Eye Tummy Tuck Tattoo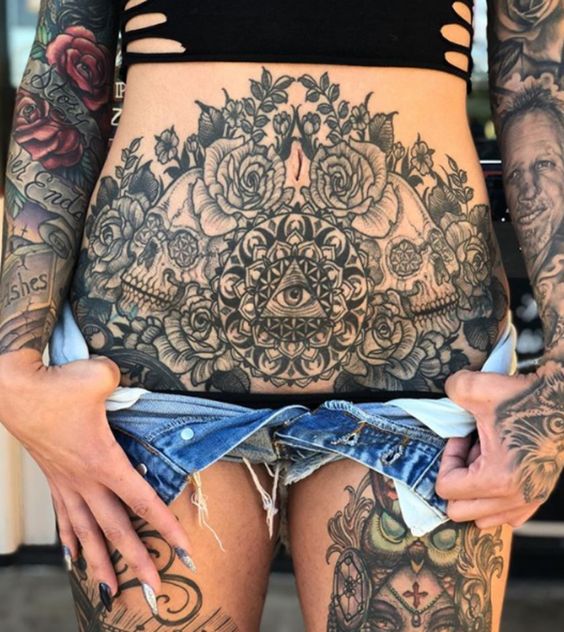 If you already have arm and leg tattoos, a tummy tuck scar tattoo can be your finishing glory! This tattoo covers the entire stomach and hip area and features a third eye in the middle with various other objects surrounding it. The detailed nature of the tattoo makes it impossible to see the scar.
Single Rose Tummy Tuck Tattoo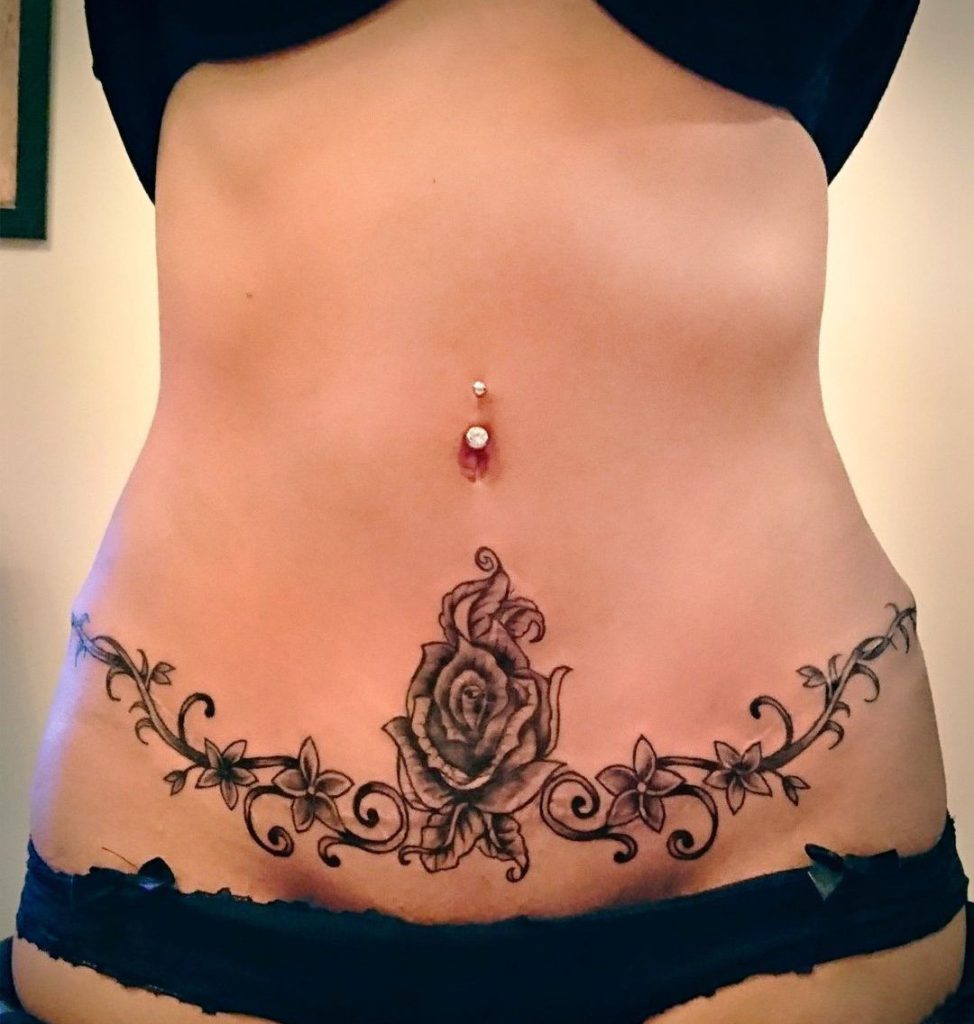 This is the perfect tummy tuck scar tattoo if you're looking for something elegant, pretty, and low-key. There is a single rose in the center which does a great job of hiding the main part of the tattoo. The side portions of the tattoo also camouflage the remaining scar well.
Butterfly and Rose Tummy Tuck Tattoo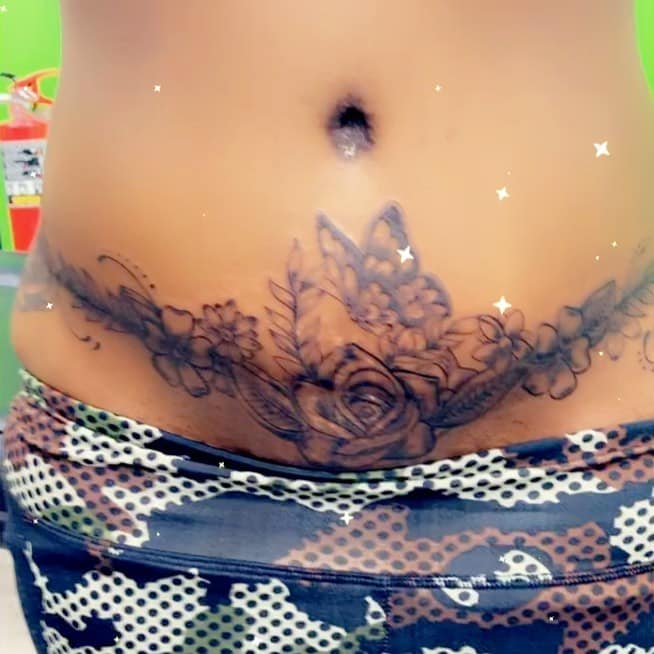 This butterfly and rose tummy tuck scar tattoo is very feminine and flattering. It uses only black ink, which is shaded and goes into detail in many places, the perfect solution for hiding a scar. The final result is a gorgeous tattoo that enhances your slender abdominal area.
Bold Rose Tummy Tuck Tattoo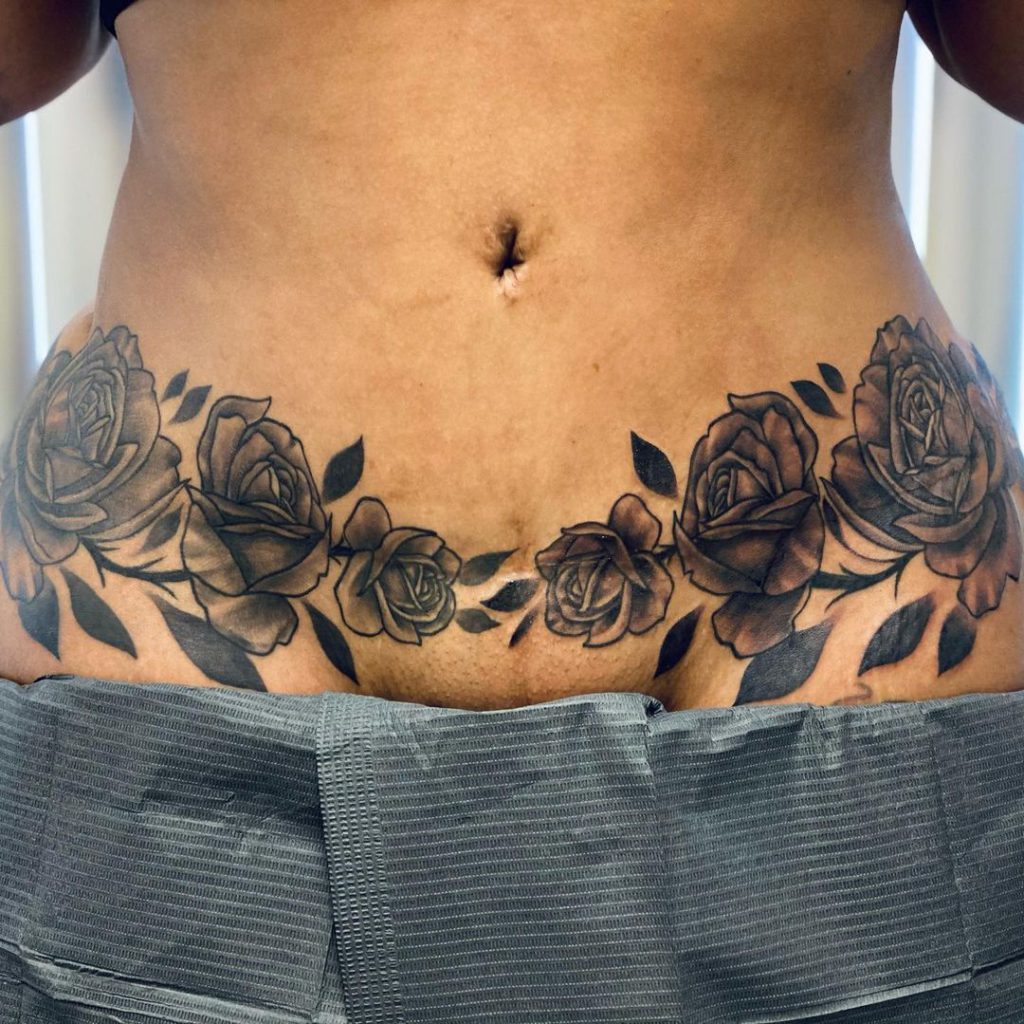 This bold rose tattoo in black ink is created by roses in various shapes along the line of the scar. This tattoo will take some time to create and you may feel a little tender afterward, but it will be worth it in the end when you see the result!
Winding Floral Tummy Tuck Tattoo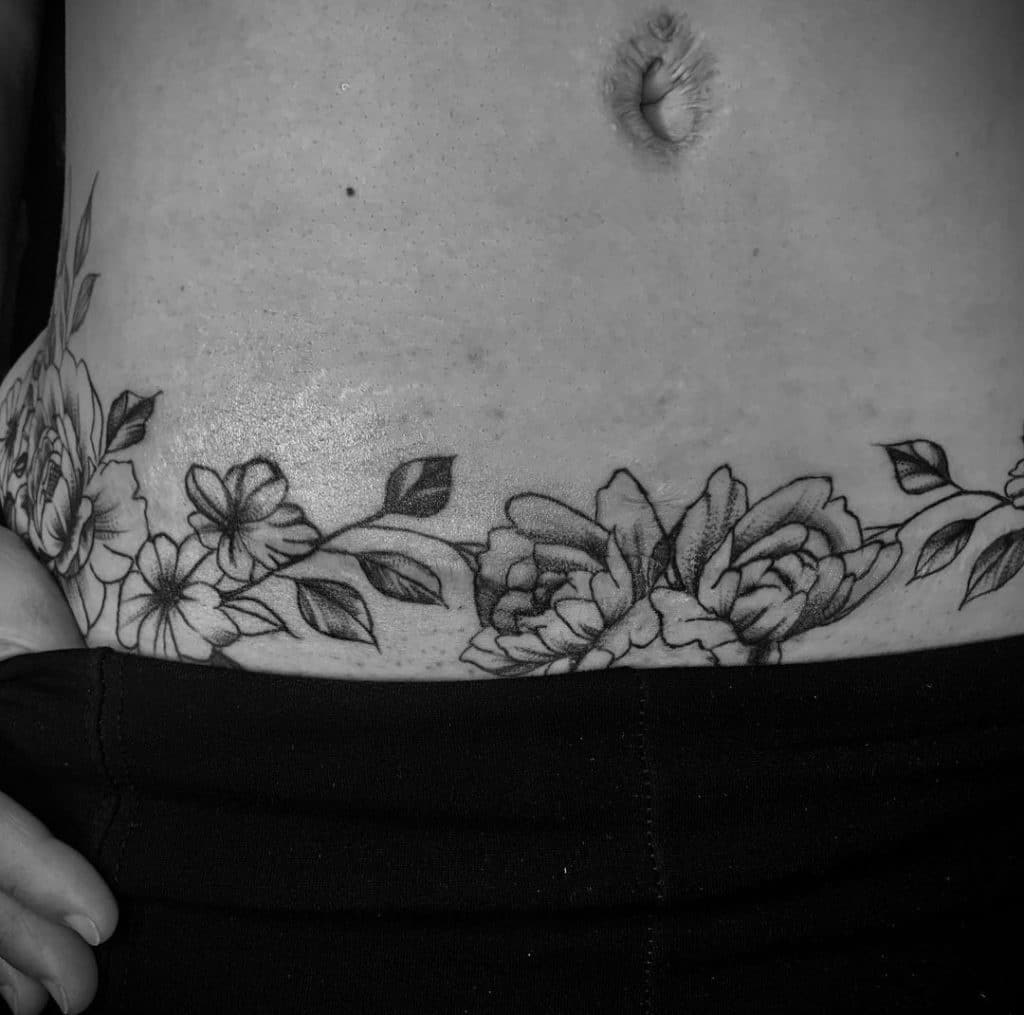 A floral tattoo is a perfect design to help you show off the excellent results of your tummy tuck! This tattoo gently winds around your stomach area, ending at either side of your hips, giving it a whimsical yet elegant look.
Small Flower Tummy Tuck Tattoo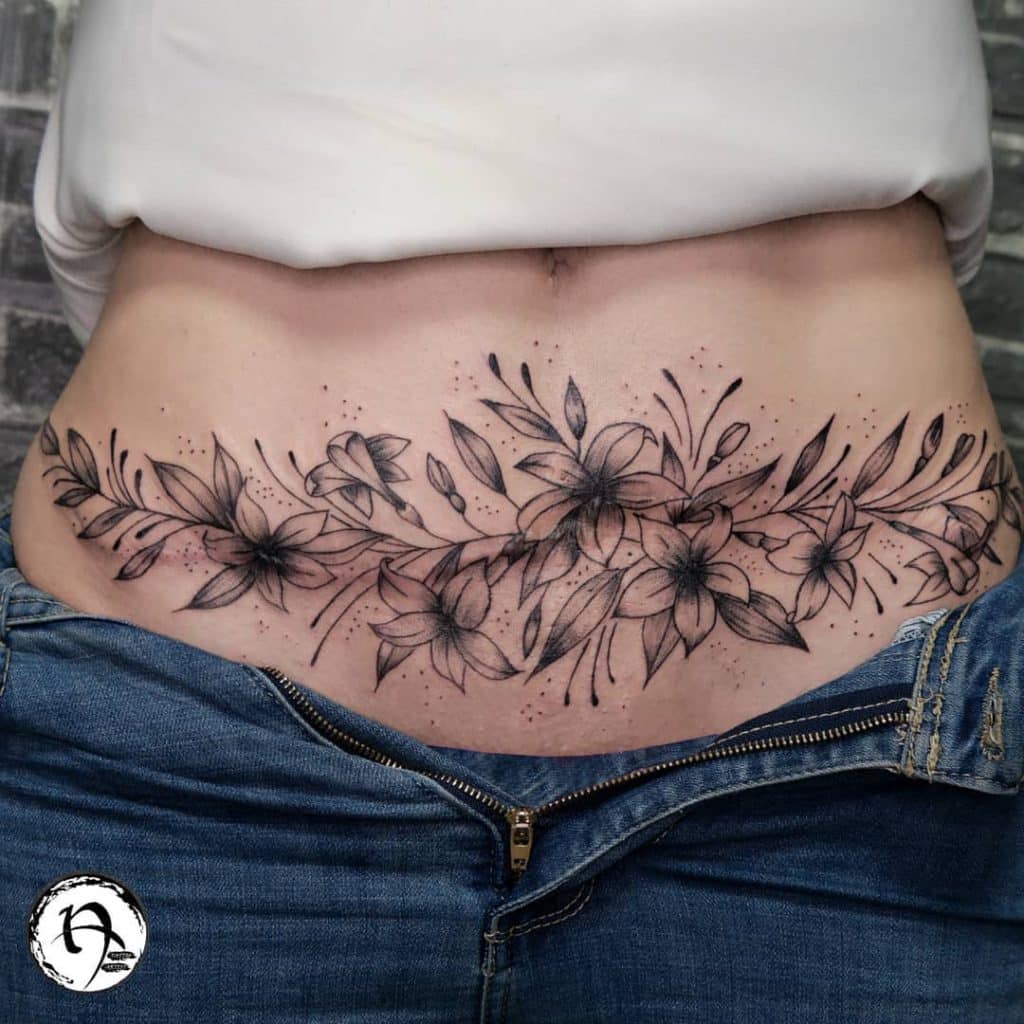 With its multi-sized leaves and open flowers, this tummy tuck scar tattoo goes into exquisite detail. It has some dots of pollen around the flowers, as well as a solid stem that hides any trace of your scar well.
Oriental Tummy Tuck Tattoo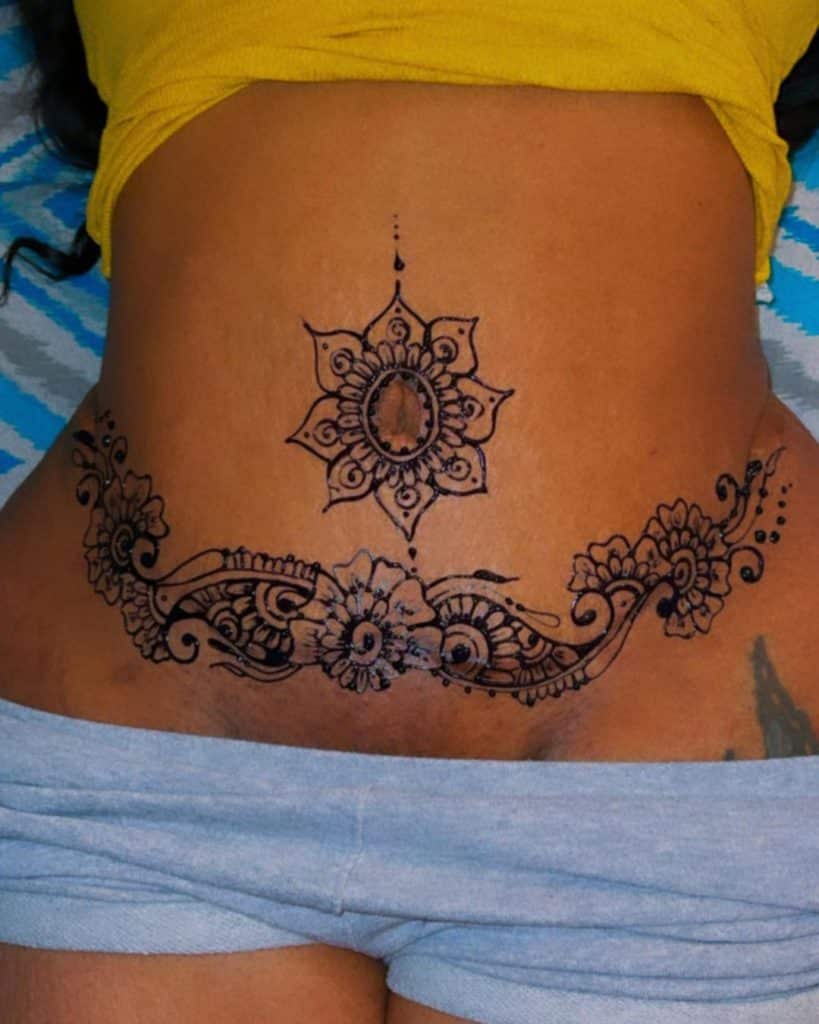 This oriental-designed tattoo is reminiscent of a Hindu tattoo that is typically done with henna. There is a lotus shape cleverly situated around the belly button, as well as a bottom section that hides the scar very well.
Colorful Tummy Tuck Tattoo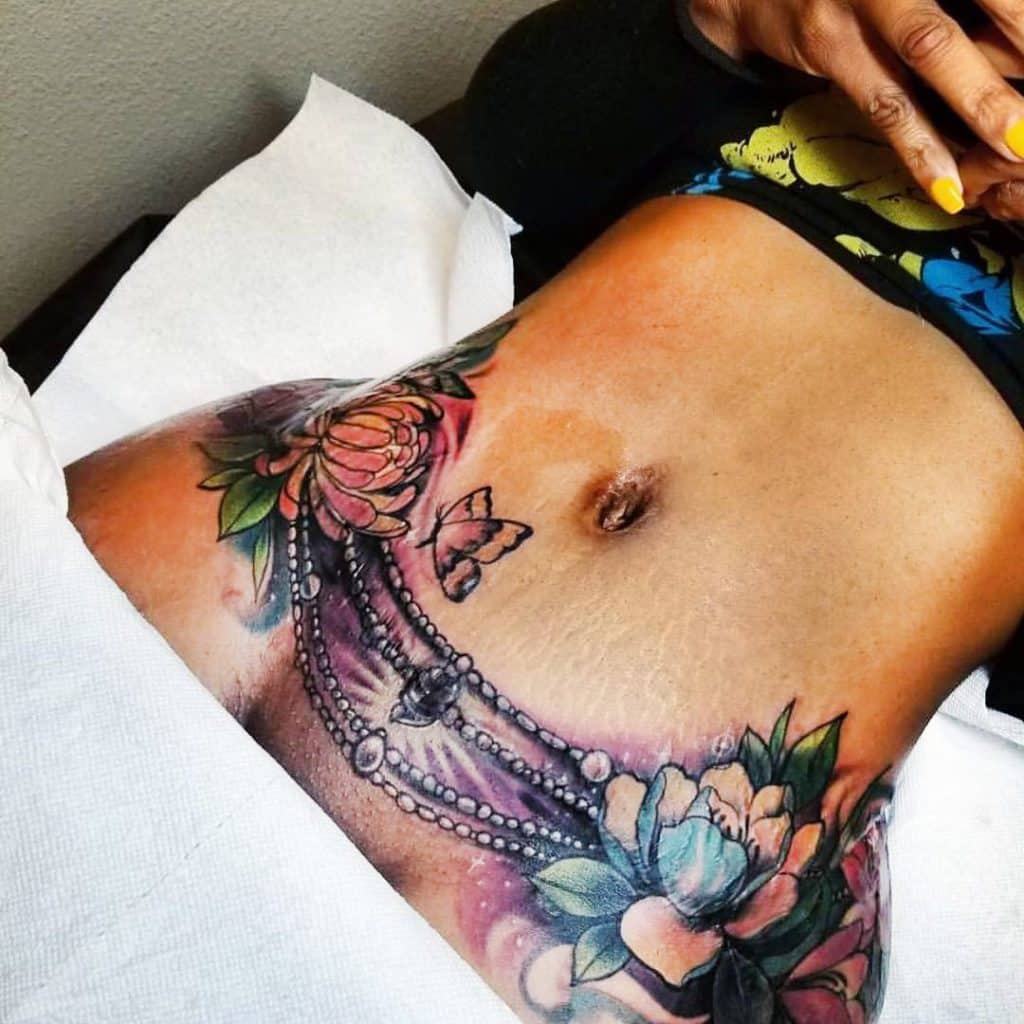 Some people like to use more colors than just black in their tattoos. This tummy tuck scar tattoo has the perfect combination of blue, pink, black, and white to create a jeweled, butterfly and floral design. You won't be able to see your scar at all!
Side Tummy Tuck Tattoo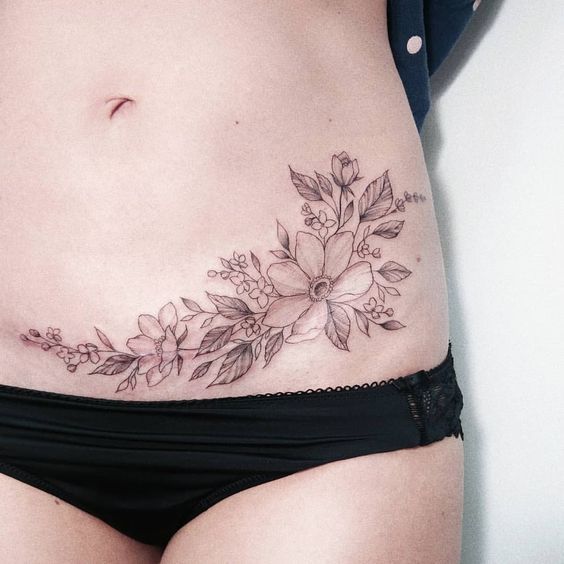 Do you believe that less is more? If so, why not think about this minimalist side tummy tuck tattoo that only covers the area immediately surrounding the scar. It has clean lines and definitely an understated beauty that you'll love looking at.
Blue Tummy Tuck Tattoo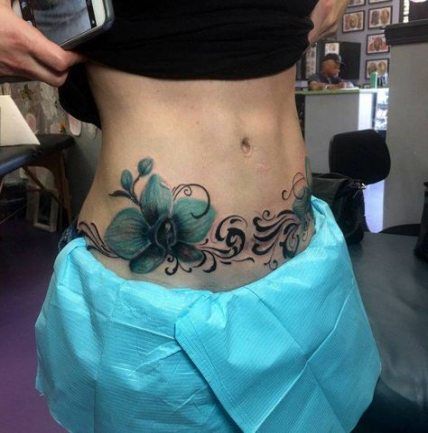 A tummy tuck scar is the perfect opportunity to make the most out of a fantastic tattoo! This blue and black floral tattoo is a great example of this. Once complete, you won't notice your scar much at all and you can rock your tattoo instead!
Tropical Tummy Tuck Tattoo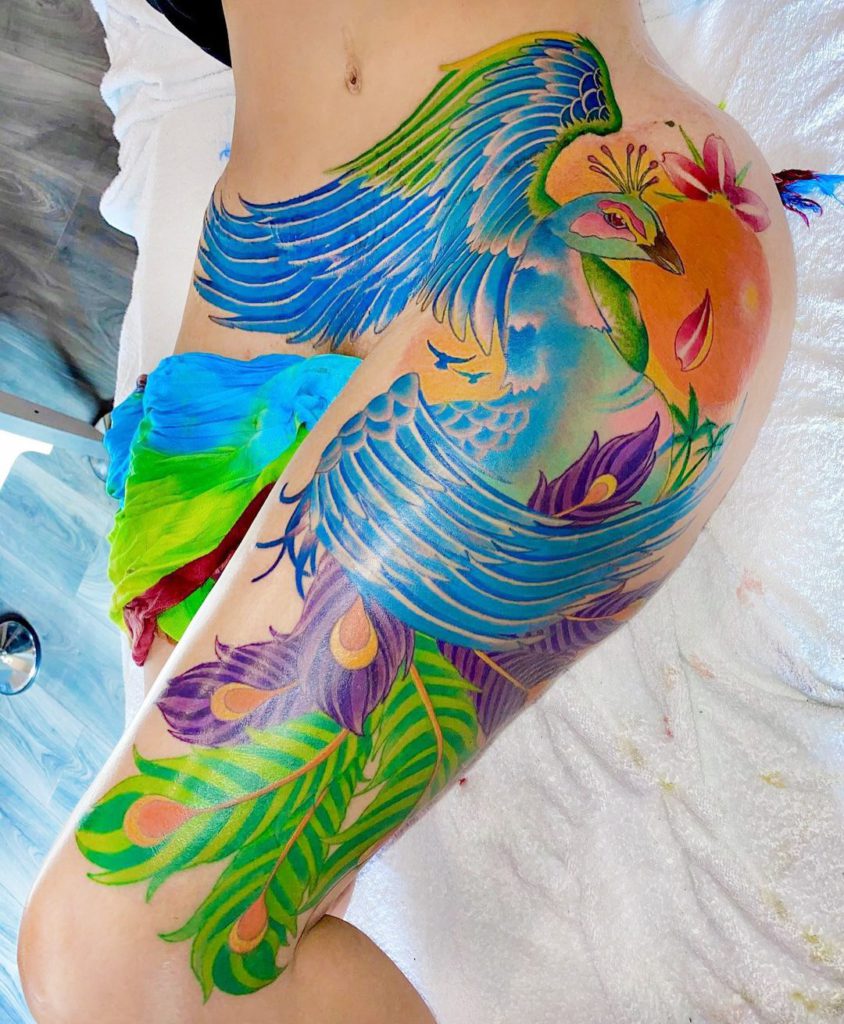 If your personality is larger than life and you want your colorful character to be reflected on your body, check out this tropical tattoo! The highlight is a colorful parrot whose wings beautifully cover the entire scar. This tattoo extends onto the leg as well – just perfect!
Floral Jewel Tummy Tuck Tattoo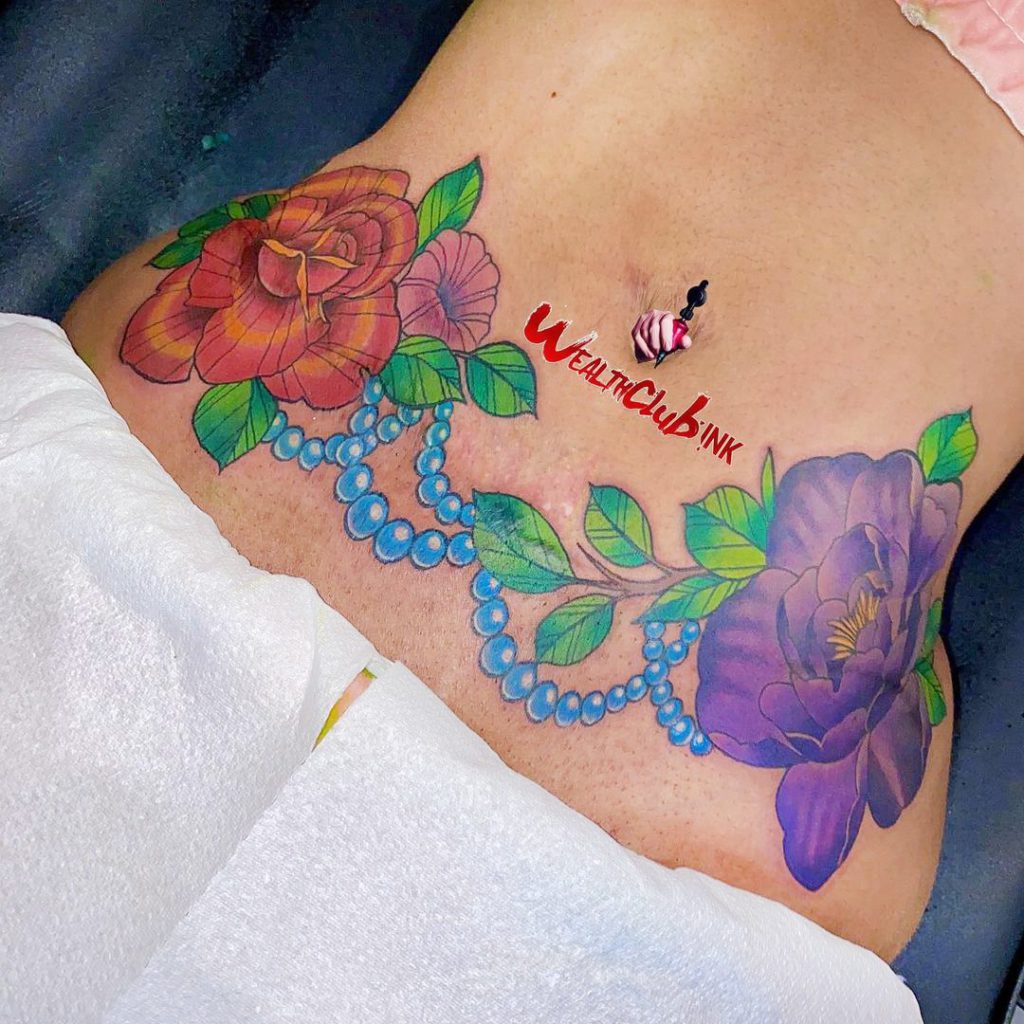 If you're not keen on a plain, black ink tattoo, this colorful tummy tuck scar tattoo may be just what you've been looking for. The middle, jeweled section is what covers most of the tattoo, while the rest has a floral theme and complements it well.
Spring Flowers Tummy Tuck Tattoo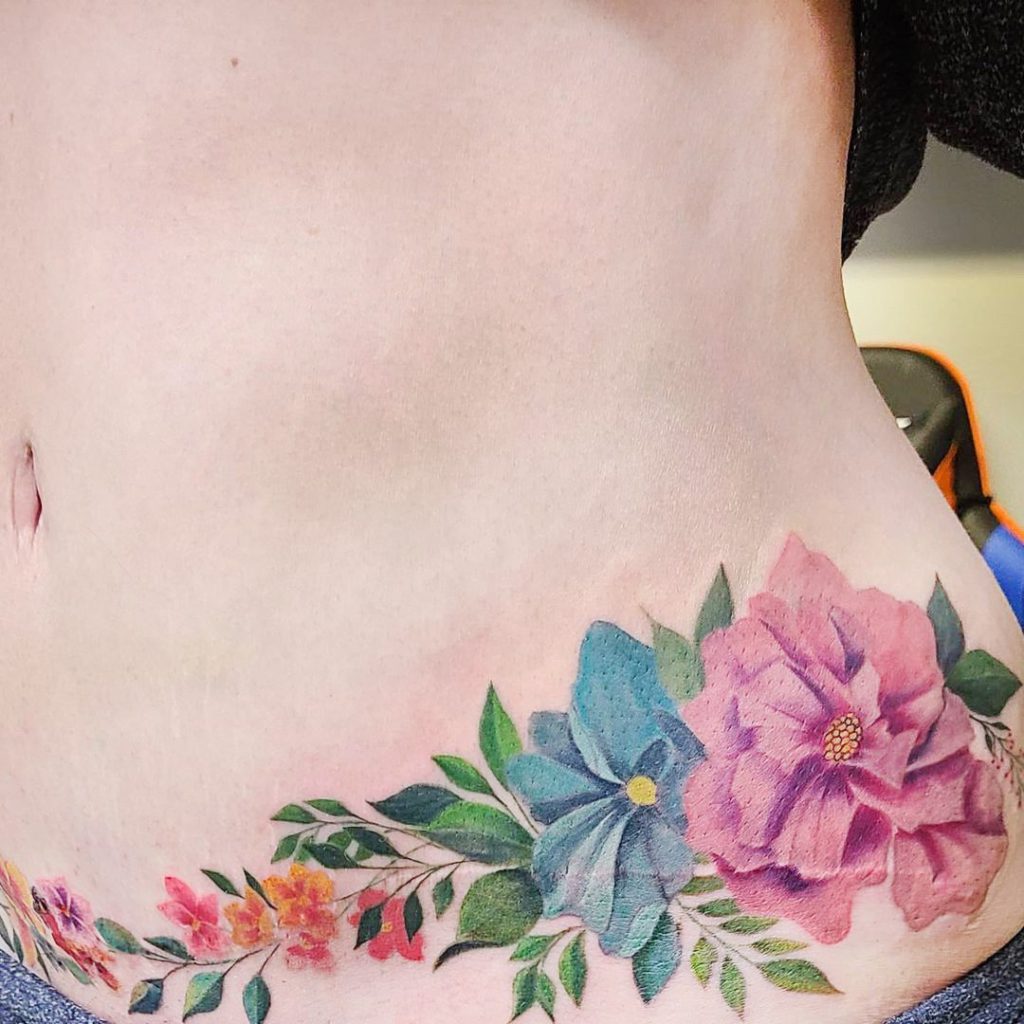 If your style is feminine, dainty, and minimalist, you'll love this stunning floral design tattoo. It features flowers in various colors, bright green leaves, and a winding stem that cleverly hides the line of the tattoo.
Elegant Tummy Tuck Tattoo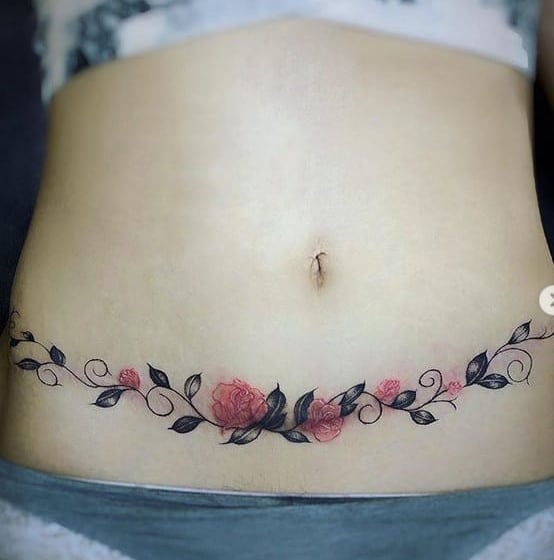 Looking for a sexy and natural-looking tummy tuck scar tattoo? This rose-themed one ticks all the boxes! Once completed, you'll be hard-pressed to see where your tummy tuck tattoo even was! It's a definite consideration if you need an elegant solution.
Your Tummy Tuck Tattoo: Cost Details and Key Points to Consider
The price of a tummy tuck tattoo can change a lot. Things like how big and complicated the design is, where the tattoo is on your body, and how experienced and well-known the tattoo artist is can all make a difference. Usually, this type of tattoo might cost you between $200 and $1000 or even more. It's a good idea to talk to a trustworthy tattoo artist to figure out the design and cost of the tattoo. They can also help you make sure that the tattooing process is safe and professional.
Tummy Tuck Tattoo Aftercare: What to Do and How to Care for Your New Tattoo
Taking care of your new tummy tuck tattoo properly is key to ensuring a smooth healing process and maintaining its vibrancy and detail. Here are the steps to follow for the aftercare:
Keep it clean: Your tattoo artist will provide instructions on how to clean your tattoo. This may include gently washing the area with soap and water, then applying a thin layer of ointment or lotion.
Avoid getting it too wet: You should avoid soaking the tattoo in water, like when swimming or taking a bath, for at least 2 weeks after getting it.
Protect it from the sun: Keep the tattoo covered with clothes or a bandage for the first few days to avoid sunlight, which can make the tattoo fade.
Avoid irritation: The covering can also stop your tattoo from rubbing against things and getting irritated.
Manage discomfort: It's normal to feel some pain, itching, redness, or swelling in the first few days after getting your tattoo. Your tattoo artist will give you a special cream or ointment to help with this.
Don't pick or scratch: Try not to pick at or scratch your tattoo. This can cause the ink to bleed and could lead to infection.
Follow-up: You may need to see your tattoo artist again a few days after getting the tattoo to check on its healing.
Watch for complications: Keep an eye out for any signs of infection or other complications.
Stick to your aftercare routine: The key to ensuring that your tummy tuck tattoo heals well is to be consistent with your aftercare routine.
References:
Hourglass Tummy Tuck Miami – Retrieved from Moon Plastic Surgery
Tummy Tuck Miami – Retrieved from Moon Plastic Surgery
Tummy Tuck – Retrieved from Boutinic Aesthetics